Meet Abby & Airin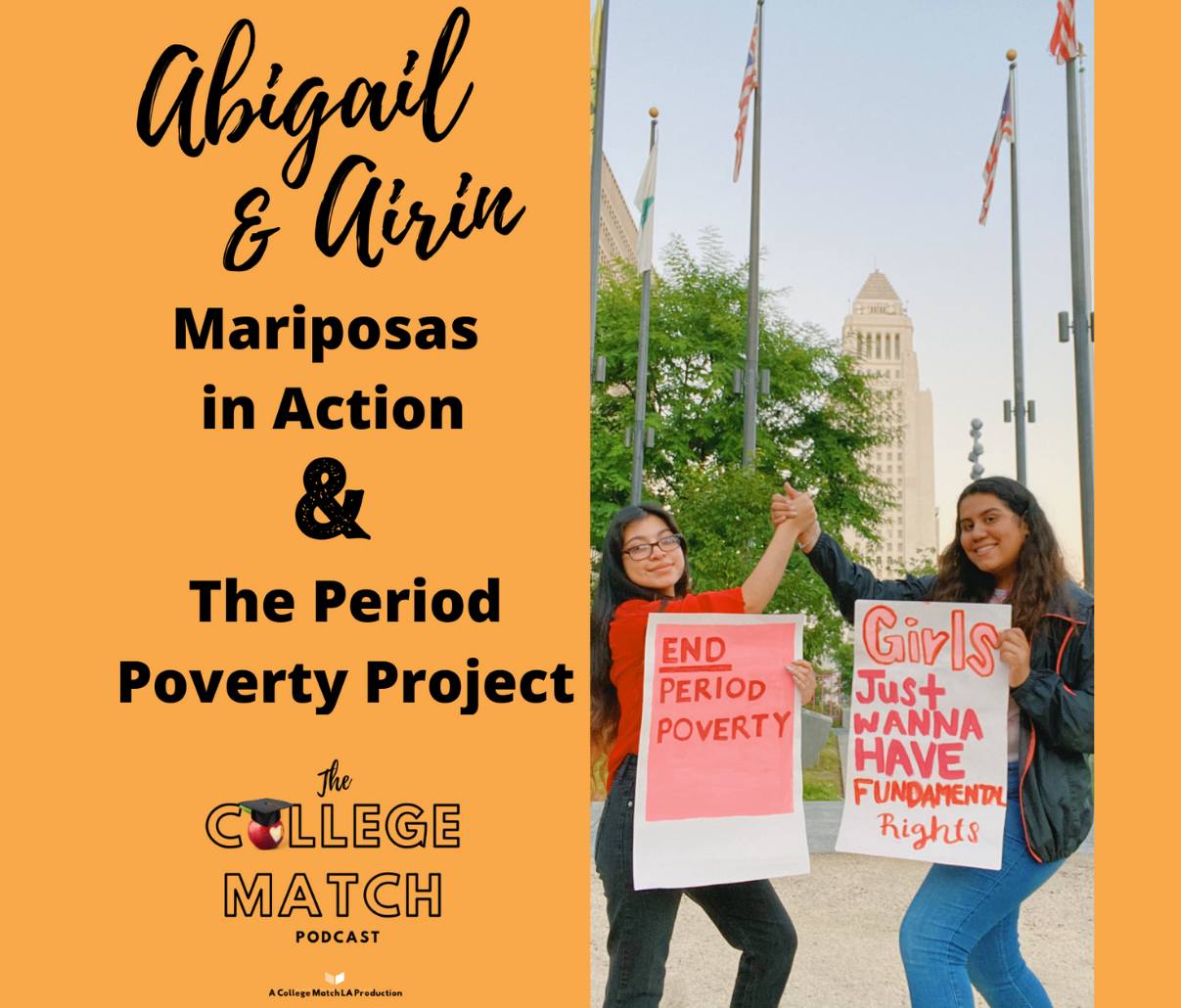 High School:

Alliance Ted K. Tajima High School
College:

Stanford University
Career:

Aspiring Social Activists with interests in politics, public health and pediatrics
PODCAST EPISODE 5 - ABBY AND AIRIN'S STORY: MARIPOSAS IN ACTION AND THE PERIOD POVERTY PROJECT
Meet Airin and Abby, two young leaders in Los Angeles who apart, have their own unique talents and interests, but together, are a powerful duo that radiates hope and positivity. They have joined forces during high school to create two impactful programs called Mariposas in Action and The Period Poverty Project.  
Mariposas in Action is a student led, support group for rising first generation college students. Their motto is "For Youth By Youth" and was started to spread the word about college access and success for students who do not have access to resources in their community. Using what they learn from College Match and other college access programs they are part of, they then bring that information to their peers. Very much a "Pay It Forward" mentality! Follow them @mariposasinaction to learn more!
The Period Poverty Project is a collective effort to spread awareness about Assembly Bill 10 and the fundamental rights young women have to easily access feminine hygiene products at their high school. Together, Abby and Airin fought to get dispensers installed in at least 50% of the restrooms on their high school campus and are now creating a toolkit for other high school students to do the same.  Additionally, they have brought their efforts to the streets by creating care packages for the homeless and more vulnerable populations who do not have easy access to feminine hygiene products. To learn more about this effort, follow them on Instagram @periodprojectla and check out the website they created at bit.ly/periodpovertyla.  
You can also help them spread joy to the community by donating to their GoFundMe Page at https://www.gofundme.com/f/2a33x-period-poverty?utm_source=customer&utm_medium=copy_link-tip&utm_campaign=p_cp+share-sheet
They are both very unique individuals outside of the classroom! 
Airin believes in the power of story and is very close to her Mexican roots.  She aspires to study politics and public health and wants nothing more than to make her parents proud and pass on this powerful message to peers: "Si Se Puede/Yes You Can!"
Abby is very active in her church community and aspires to become a pediatrician one day. Her parents are from Guatemala and have passed on a strong sense of gratitude for all she's been blessed with. In her words, "I possess the ability to become what I am destined to be." 
Both the first in their families to pursue a higher education, they will both surely make a lasting impact on their future college campuses next year.  
**For a Video Version of Airin and Abby's Podcast Interview, visit our College Match YouTube Page where you'll be able to see pictures of them in action and much more. And if you'd like to learn more about College Match LA, visit www.collegematchla.org.
More Stories